The District Detroit Mobile App Available for Download Now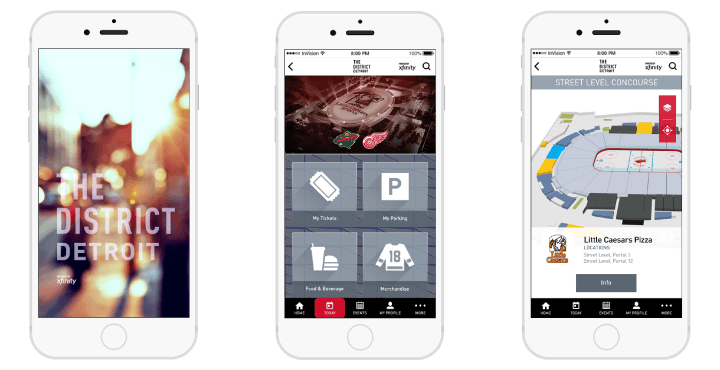 The District Detroit Mobile App, presented by XFINITY, will enhance your Little Caesars Arena and The District Detroit experience with features that include real-time answers to your questions, mobile event tickets and parking passes, express pickup for food and beverages and wayfinding to navigate around The District Detroit and Little Caesars Arena.
YOUR PERSONAL GUIDE
Questions about Little Caesars Arena or The District Detroit? Simply "Ask A Question" and you will get real-time answers from our virtual assistant. Your questions about parking, concessions, ticketing, Wi-Fi and other related topics will automatically be answered. If the app doesn't have the answer, a customer service representative will be able to chat with you directly.
MOBILE TICKETING & PARKING

Within The District Detroit Mobile App, you can access and manage all your tickets from your phone. By linking your Ticketmaster Account to the app, all of your purchased tickets and parking passes will automatically be added. Simply navigate to "My Tickets" or "My Parking" to see your mobile passes, transfer to friends or family members and enter the arena. You can also purchase tickets to events at all of The District Detroit's major venues and secure parking in advance at any of the 30 Olympia Development-managed parking lots within The District Detroit.
EXPRESS PICKUP FOOD & BEVERAGE

During all Little Caesars Arena games, order "Express Pickup" from a concession stand near you to skip the line on the concourse. By using The District Detroit Mobile App, you can order and pay directly from your phone before heading to the concession stand on the concourse. This will allow you to have your food prepared fresh without standing in line and missing any of the action.
EXPLORE LITTLE CAESARS ARENA
The District Detroit Mobile App's wayfinding feature allows you to navigate to points of interest inside Little Caesars Arena and the surrounding area. You can also get information about restaurants and retail locations within The District Detroit. To utilize the wayfinding feature, you will need to enable Bluetooth on your device so the app can determine your location and provide you the most accurate information about what is around you.