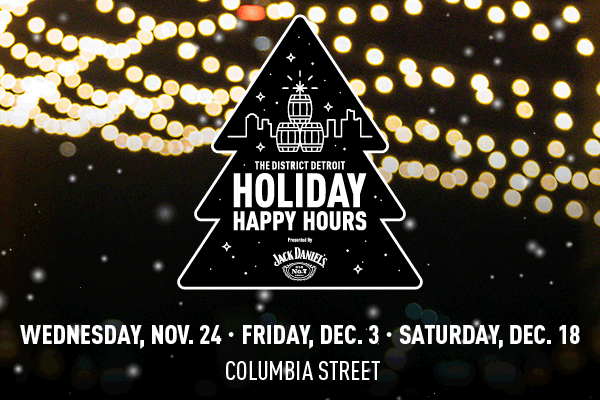 Attention Eventgoers, visitors and holiday shoppers!
You are invited to attend The District Detroit Holiday Happy Hours, Presented by Jack Daniel's, on Columbia Street prior to the upcoming sports and entertainment events in the district on Dec. 18. Join us for specialty cocktails, music, and more throughout the rest of the holiday season... Read more
Holiday Happy Hour Event Details
FREE to attend for all ages
Parking at the Fox Theatre Garage (50 W. Montcalm St.) will be available for just $5 by reserving it advance on ParkWhiz
Live Music/DJ
Jack Daniels Specialty Drinks
Holiday themed photo opportunities
Please Drink Responsibly. Tennessee Whiskey, 40% ABV, JACK DANIEL DISTILLERY, Lynchburg, TN. Jack Daniel's and Old No.7 are registered trademarks. ©2021 Jack Daniel's.
District Detroit Event Schedule

Pro Tip: Columbia Street is a short 10 minute walk down Woodward Avenue from Little Caesars Arena and is located between the Fox Theatre and Little Caesars Global Resource Center.

Saturday, Dec. 18
12:00 p.m - Detroit Pistons vs. Houston Rockets at Little Caesars Arena
4 - 8 p.m. - Happy hour on Columbia Street
8:00 p.m. - Detroit Red Wings vs. New Jersey Devils at Little Caesars Arena