February 08, 2018
Columbia Street to Bring New Shopping and Dining to The District Detroit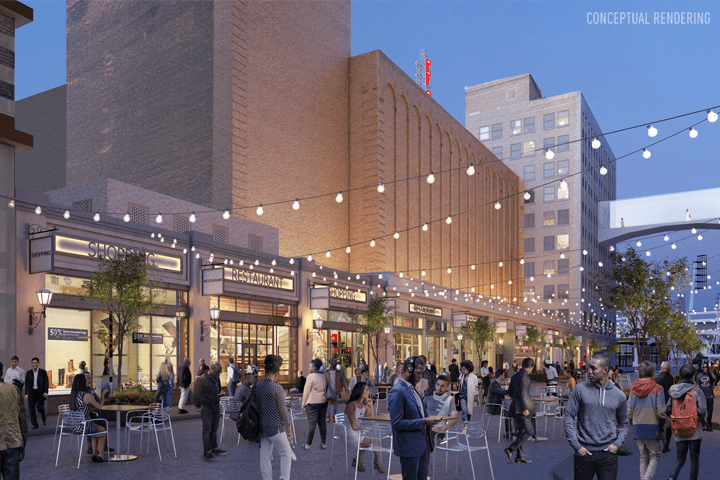 The District Detroit's Columbia Street is set to be the city's latest retail destination bringing new restaurants and shops to serve Tigers fans and many others west of Woodward between the historic Fox Theatre and the new, nine-story Little Caesars headquarters expansion. The block-long, pedestrian-friendly strip will have ten new storefronts in one of The District Detroit's busiest areas.
Columbia Street is bringing nearly 40,000 square feet of new retail and will feature a variety of dining options among several restaurants as well as a European-style promenade boasting Cobblestone paving, festoon lights and al fresco dining space.
The first of the new retail tenants will open their doors this year.
The progress comes with new milestones in The District Detroit, including the anticipated opening of the Little Caesars headquarters and the new Mike Ilitch School of Business building at Wayne State University, made possible by a historic $40 million donation from the Ilitch family.
To contact our leasing partners, email [email protected]
About The District Detroit
The District Detroit is one of the largest sports and entertainment developments in the country. Located in the heart of Detroit, this 50-block, mixed-use development led by the Ilitch organization unites eight world-class theaters, five neighborhoods and three professional sports venues in one vibrant, walkable destination for people who want to live, work and play in an exciting urban environment. Home to the Detroit Tigers, Detroit Red Wings, Detroit Pistons and Detroit Lions - The District Detroit represents the greatest density of professional sports teams in one downtown core in the country.
Current data from the University of Michigan demonstrates that The District Detroit will account for an economic impact of more than $2 billion by 2020 and create more than 20,000 construction and construction-related jobs and 3,000 permanent jobs.