July 18, 2017
Detroit-based Contractor Teaching Next Generation of Apprentices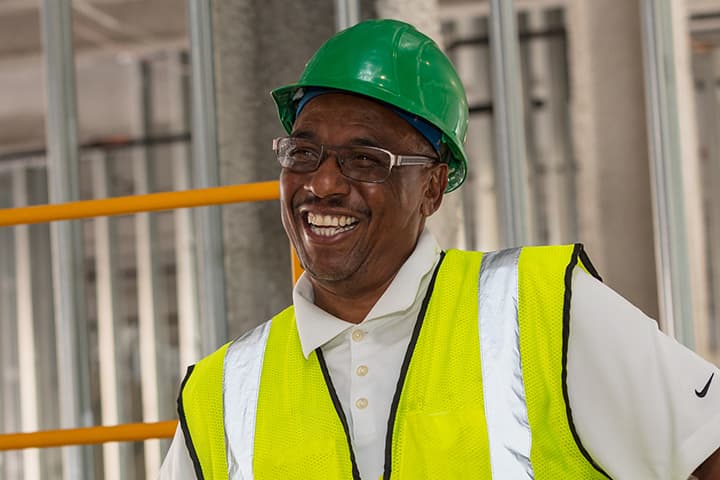 They've been in business in Detroit for nearly 50 years and now Ben Washington and Sons Plumbing & Heating is making their mark on The District Detroit.
The small plumbing contractor is headquartered just five miles from the new Little Caesars World Headquarters construction site—and they're doing their part to push the project toward a 2018 completion.
Isaac Washington took over his father's company in the late 1990s and is proud to carry on a legacy of giving young people in Detroit a foothold in the construction industry. Eight plumbing apprentices are currently working for Ben Washington and Sons on the Little Caesars World Headquarters project—giving them much-needed on-the-job experience.
"This is our way of giving back," said Washington. "If we can train our young people and offer them gainful employment, it can only help them and our city's future."
Ben Washington and Sons is one of several Detroit-based contractors that have returned to do work in The District Detroit after successfully completing work on one or more other construction projects underway now, including Little Caesars Arena.
Contracting with Detroit-based companies is a key goal of The District Detroit development in order to ensure that this transformational project directly supports the Detroit community.
Olympia Development of Michigan is conducting comprehensive workforce development and business participation outreach to help ensure local resident and business participation in the construction projects in The District Detroit.
The District Detroit will ultimately account for an economic impact of more than $2 billion by 2020 and create 12,500 construction and construction-related jobs and 1,100 permanent jobs. More than $100 million in income from the Little Caesars Arena alone is expected for Detroit residents, with significant additional income to be created through future private development.
To date, the total dollars awarded to Detroit-based or -headquartered businesses is more than $400 million and the amount awarded to Michigan businesses tops $600 million.
Little Caesars and Olympia Development of Michigan broke ground on the $150 million Little Caesars World Headquarters Campus Expansion in September 2016 and it is expected to be completed in 2018. It will be The District Detroit's largest new construction in the Columbia Street neighborhood, which is also home to the spectacular Fox Theatre, a National Historic Landmark—as well as City Theatre, Hockeytown Café, the Fillmore Detroit and more.
Twenty-seven years after moving its headquarters from the suburbs to Detroit's Fox Office Center in the heart of downtown, Little Caesars is more than doubling the size of its current campus in Detroit to accommodate the company's rapid global growth and hiring.
About The District Detroit
The District Detroit is one of the largest sports and entertainment developments in the country. Located in the heart of Detroit, this 50-block, mixed-use development led by the Ilitch organization unites eight world-class theaters, five neighborhoods and three professional sports venues in one vibrant, walkable destination for people who want to live, work and play in an exciting urban environment. Home to the Detroit Tigers, Detroit Red Wings, Detroit Pistons and Detroit Lions — The District Detroit represents the greatest density of professional sports teams in one downtown core in the country.