November 08, 2018
Google Opens Detroit Office at Little Caesars Arena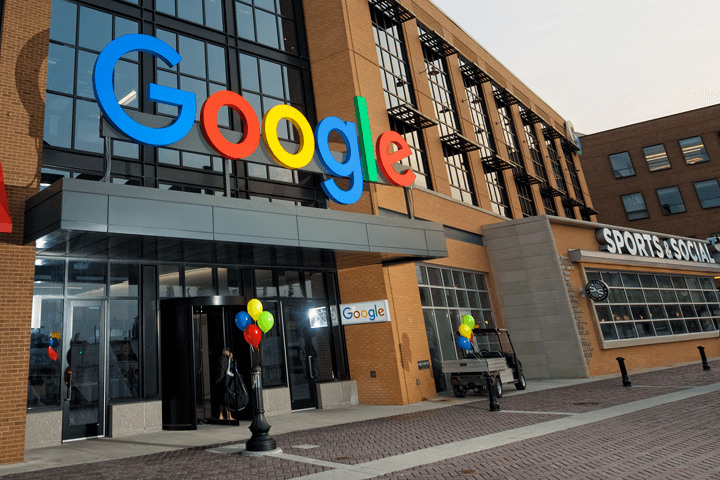 Google has officially joined in on Detroit's resurgence after celebrating the opening of their new office adjacent to Little Caesars Arena today.
The first Google location in Detroit is located in the office building adjacent to Little Caesars Arena on Henry Street. Google occupies 30,000-square-foot on two floors and has about 100 employees. The newly-built space features interior décor showcasing the history and landmarks of the Motor City. Designed by Detroit-based architecture firm, SmithGroup, the office also boasts workout amenities and state-of-the-art kitchens.
"We are exceptionally proud to have a world-class organization like Google be one of our first
main tenants in The District Detroit," said Christopher Ilitch, president and CEO of Ilitch Holdings, Inc. "Google's move into the city was exactly the type of economic development we were hoping to spur with The District Detroit, a move which contributes to the city's resurgence by bringing jobs and innovation to the benefit of all Detroiters."
In addition to adding jobs and density to the city of Detroit— a key part of the global tech company's strategic growth beyond Silicon Valley— Google's opening marks a $1 million investment in STEM education for local under represented and low-income high school students. Google.org announced a $750,000 grant to SMASH Detroit, an initiative offering rigorous science, STEM education and culturally-relevant coursework to area students at a newly-launched site at Wayne State University. The nonprofit arm also awarded $250,000 to the Michigan Engineering Zone at the University of Michigan's Detroit Center to expand STEM and robotics programming for 350 students year-round.
Google's presence in Michigan has grown over the past 12 years, with more than 600 employees statewide working on teams across Sales, YouTube and Engineering.
At Little Caesars Arena, Google employees will enjoy access to nearby restaurants Kid Rock's Made in Detroit, Mike's Pizza Bar, the District Market and Sports & Social Detroit, along with forthcoming retail options. Google workers in the Detroit office will join employees of the Detroit Red Wings, Olympia Entertainment and 313 Presents, who work in the adjacent arena office space fronting Woodward Avenue.
About The District Detroit
The District Detroit is a dynamic urban destination in the heart of Detroit. One that includes something for everyone—a dense neighborhood experience with a variety of developments alongside Detroit's premier sports and entertainment venues. Connecting downtown Detroit to growing nearby neighborhoods such as Midtown, Corktown and Brush Park, The District Detroit is having a dramatic economic impact on Detroit and is a driving catalyst of the city's remarkable resurgence. The District Detroit represents $1.4 billion in new investment to Detroit including the new Little Caesars Arena, Mike Ilitch School of Business at Wayne State University and Little Caesars world headquarters campus expansion. Additionally, new office, residential and retail spaces will continue to add momentum to Detroit's amazing comeback for years to come.