May 01, 2018
Leading Urban Development Conference Arrives to Experience Detroit's Resurgence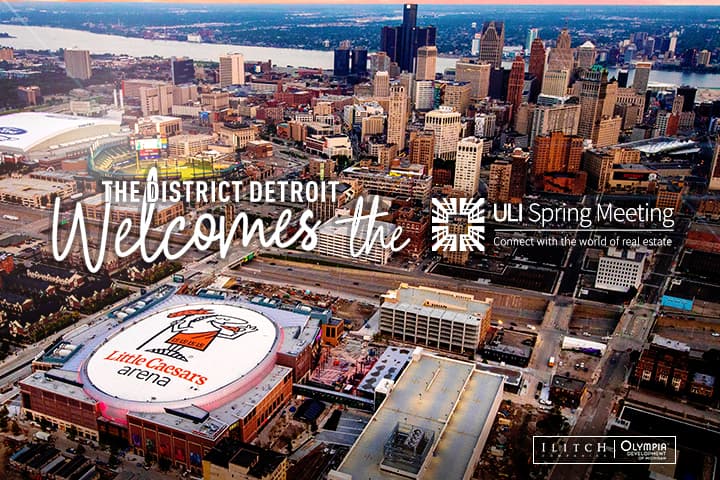 Leading urban planning and real estate industry professionals from around the world have landed in Detroit to visit and study Little Caesars Arena and other landmarks in and around the city for the Urban Land Institute's annual Spring Meeting May 1-3, 2018.
The gathering, which is expected to draw an estimated 3,500 members of the oldest and largest global organization of real estate and land use experts, is the first major ULI assembly in Detroit in 40 years.
Members have set their sights on Detroit to see how the city has begun to reenergize urban areas and attract major investment and thriving businesses, and cultivating a diverse and talented workforce.
During the event, Christopher Ilitch, president and CEO of Ilitch Holdings, Inc., will speak about Detroit's renaissance joined by Dan Gilbert, founder of Bedrock Detroit and Quicken Loans, and ULI Michigan leader, Robert S. Taubman; chairman, president and CEO at The Taubman Company.
Programming throughout the three-day event—centered at Cobo Convention Center—will cover urban reinvention, responsible land use, the latest trends in real estate and Detroit's most energizing developments, such as the state-of-the-art Little Caesars Arena.
The Spring Meeting has already surpassed the sponsorship record and high interest in the Detroit gathering has attracted more registrations than any other Spring Meeting. It also has the highest percentage of registration among local members. ULI said the Detroit event has gained more new members than any other Spring Meeting locally and nationally.
About The District Detroit
The District Detroit is a dynamic urban destination in the heart of Detroit. One that includes something for everyone—a dense neighborhood experience with a variety of developments alongside Detroit's premiere sports and entertainment venues. Connecting downtown Detroit to growing nearby neighborhoods such as Midtown, Corktown and Brush Park, The District Detroit is having a dramatic economic impact on Detroit and is a driving catalyst of the city's remarkable resurgence. The District Detroit has delivered $1.4 billion in new investment to Detroit including the new Little Caesars Arena, Mike Ilitch School of Business at Wayne State University and Little Caesars world headquarters campus expansion. Additionally, new office, residential and retail spaces will continue to add momentum to Detroit's amazing comeback for years to come.