March 23, 2022
Little Caesars Arena successfully hosts 2022 NCAA Division I Wrestling Championships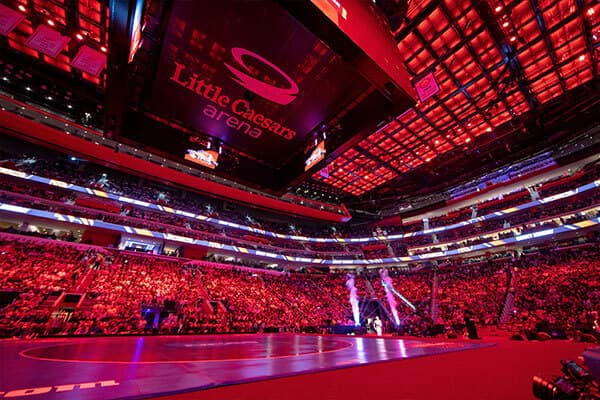 More than 106,000 enthusiastic fans packed Little Caesars Arena for three-day NCAA event.
Little Caesars Arena welcomed more than 106,000 guests through its doors last Thursday through Saturday as the award-winning venue hosted the 2022 NCAA Division I Wrestling Championships.
More than 300 collegiate wrestlers representing nearly 70 schools throughout the country descended on The District Detroit in search of a national title, with the University of Michigan and the Detroit Sports Commission serving as event co-hosts.
More than 17,500 fans attended each of the six sessions at Little Caesars Arena from Thursday morning to Saturday night, with 18,164 fans packing the arena for the National Championship session to close the festivities Saturday evening.
This was the first NCAA Wrestling Championships to allow fans since 2019 due to the COVID-19 pandemic, and everyone involved was thrilled to compete in front of a packed house in Detroit.
"It means the world. That's why we do it, we want to put on a show," Michigan's 184-pound NCAA national runner-up Myles Amine said. "For me, it's extra special it's in Detroit. Last year, it was weird that we didn't have fans. It felt right (this year)."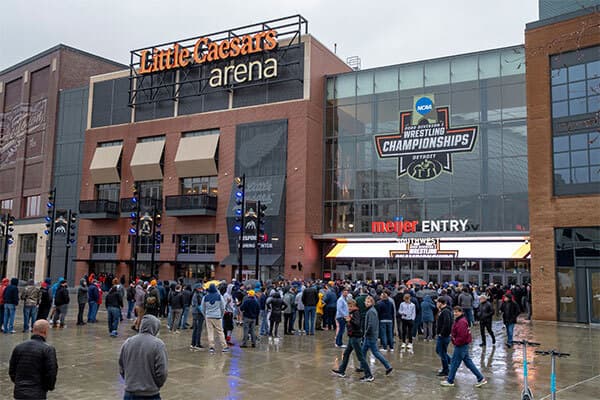 Michigan head coach Sean Bormet echoed Amine's gratitude toward having fans in attendance and having the wrestling championships in Detroit.
"Not only is it one of the best fields we've ever had, but after two years not having fans, for us, specifically, having it here in our back yard in Detroit is special," Bormet said. "To watch Detroit transform over the last 30 years—the city is very resilient, gritty, amazing people—and to have the NCAA Championships here is really special."
Five wrestlers from the University of Michigan made the national semifinals and two went on to wrestle in the national championship match for their respective weight classes.
Nick Suriano won the 125-pound championship to secure Michigan's first individual national title since 2012, and he helped the Wolverines finish second in the team competition—behind national champion Penn State University—to earn Michigan's best NCAA finish since 2005.
The event was a long time in the making after Little Caesars Arena won the bid to host the 2022 NCAA Wrestling Championships nearly five years ago—in April 2017—which was five months before the arena even opened.
"That's an awesome testament to vision," University of Iowa head coach Tom Brands said about the leadership group representing Little Caesars Arena. "We're in a big-time city, in a big-time arena. The organization's great. You've got 2022 (NCAA Wrestling Championships) signs everywhere. This is big-time. It's on par with the best in sports."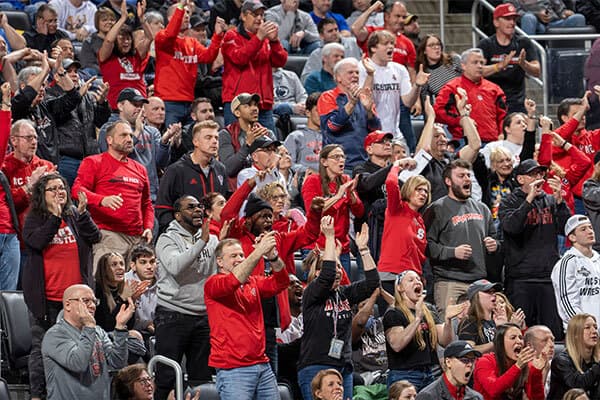 Brands said he's confident that the prestige of the event and the fanfare during the 2022 NCAA Wrestling Championships will help the growth of collegiate wrestling moving forward.
"That's a credit to the NCAA and the fans that show up and support this," Brands said. "When you have that kind of leadership, you have the opportunity to grow on every campus and make it stronger and better, and people turn their heads because it is in a big-time setting."
The championships ended in grand fashion, with University of Minnesota standout and WWE signee Gable Steveson winning the 285-pound national title to cap his historic collegiate career.
The Olympic Gold Medalist signed a multi-year WWE deal in September 2021 but returned for his senior season at Minnesota in search of his second straight NCAA title. And after capturing the heavyweight crown and finishing his amateur career with an astonishing 85-2 record, Steveson garnered a standing ovation and gave fans a show with his signature back handspring/backflip before ceremoniously leaving his shoes on the mat.
Steveson said he was invigorated by the energy of the capacity crowd at Little Caesars Arena on Saturday night and he's happy to have a part in helping the growth of collegiate wrestling.
"The fans' energy was crazy," Steveson said. "I took my shoes off and did a backflip, it's just what I do. People love to see it. I've got to put on a show for (the fans). It means a lot. Being on ESPN, making the sport of amateur wrestling bigger than it probably was a year ago, just pushing myself to be a better person and pushing the sport to grow and have more eyes on it, too."