October 25, 2019
Local Business to Open in Mike Ilitch School of Business, will Serve Up Art, Coffee and Local Foods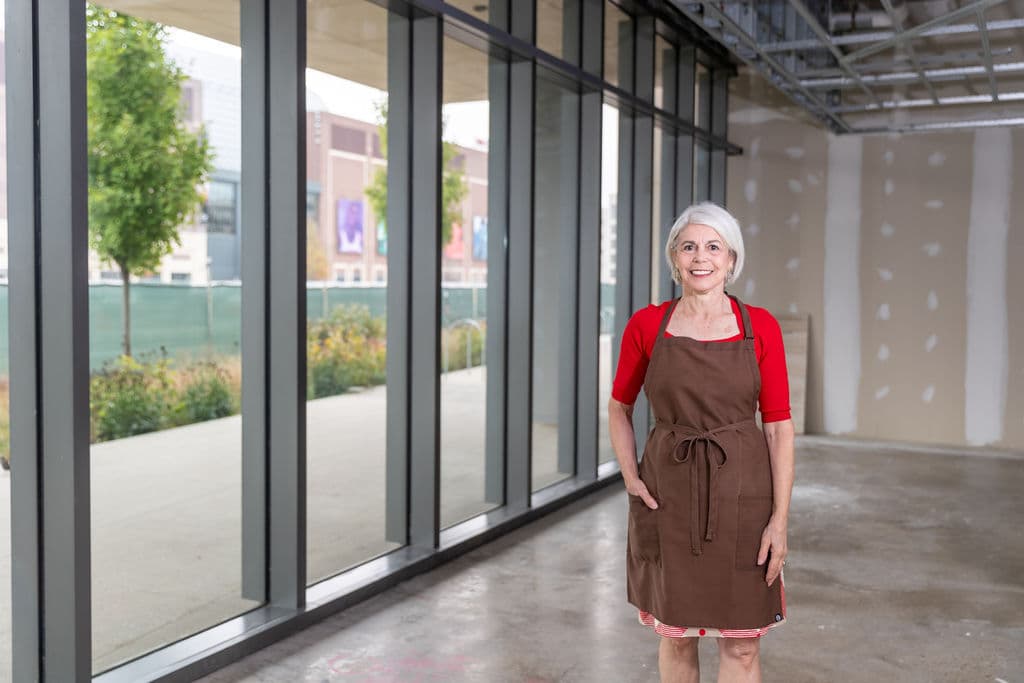 A Midtown establishment frequented by students, travelers, Midtown workers and art enthusiasts alike is relocating to The District Detroit.
Fourteen East, the contemporary café that helped anchor retail at the historic Park Shelton building near the Detroit Institute of Arts (DIA) and the College for Creative Studies (CCS) for eight years, will reopen in street-level space at the Mike Ilitch School of Business at Wayne State University.
The café has plans to open at 2771 Woodward Ave. at the end of fall 2019 semester, with a grand opening slated for January 2020.
Upon its opening, Fourteen East will serve busy faculty, students and staff—along with employees, visitors, sports fans and concertgoers in The District Detroit. Longtime patrons and new customers alike can expect the same delectable food and drink menu and carefully selected gift items the establishment is known for, said owner and founder Joanne Czerny.
Operating under the tagline "Café. Gallery and Gifts," the cafe works hard to promote sustainable lifestyle practices by recycling, using plastic-free to-go containers and selling eco-friendly products.
"I look for simple, clean designs and affordable pricing," Czerny said of her retail goods. "We have really nice gift items, jewelry pieces, tea accessories and pots." Such items have included earrings by designer Marjorie Baer, Fourteen East-branded tumblers and limited-edition prints of Detroit's Victorian-era homes by the late designer and CCS Professor Emeritus Bryon Fitzpatrick. Upon opening, the café will stock a small selection of school supplies for area collegians.
The café also prides itself on serving made-from-scratch Chai Lattes; organic, freshly-brewed Chazzano Coffee Roasters coffee; Mighty Leaf Tea; sandwiches and other grab-and-go food items and lunch specials under $10. Snack foods and pastries will include what Czerny calls "unbelievable Quiche" by Just Delicious Scones of Roseville.
Czerny said a longtime customer favorite includes the Chocolate Truffle Café Mocha, which uses Detroit-based Pete's Chocolate Co. hand-rolled truffles that are melted individually for each order. The local chocolatier's treats, which come in flavors like Dark Chocolate, Rosemary Sea Salt and Coconut Curry, will be available in a box set when the café reopens.
The cafe will also bring back its Gallery Wall, a rotating exhibit space featuring Michigan-based artists. Earlier this year, Fourteen East featured colorful vessels created by emerging glassblower and CCS student, Simon Waranch.
Named after the 14 window panes across the original location's front entrance on the east side of Woodward Avenue, the shop opened in the city's Cultural Center in 2011. The new business marked a new career for Czerny, who previously worked as a skilled interior designer.
After taking a course about launching a business at the TechTown entrepreneurship hub and meeting her coffee mentor—owner of Chazzano Coffee Roasters in Ferndale, Frank Lanzkron-Tamarazo— she opened Fourteen East, initially offering specialty coffee and pastries. The establishment evolved into a café as Czerny added sandwiches and heartier options, such as lasagna.
Fourteen East will accept cash and credit card payments, along with the Wayne State OneCard used by university students and employees. Follow the café on Instagram and Twitter at @fourteen_east to get updates and a behind-the-scenes look at ongoing construction.
About The District Detroit
Home to the Detroit Tigers, the Detroit Red Wings, the Detroit Pistons and the Detroit Lions, The District Detroit is the epicenter of sports and entertainment in the heart of the city and includes seven incredible theaters. It is the densest concentration of the four major sports teams in any urban core in the country. It is a place with something for everyone fueling Detroit's resurgence and attracting new investment in the city. Anchored by Comerica Park and the historic Fox Theatre, The District Detroit is home to the award-winning Little Caesars Arena, the Mike Ilitch School of Business at Wayne State University and the new Little Caesars world headquarters campus expansion. Little Caesars Arena features four shopping and dining establishments: Mike's Pizza Bar, Sports & Social Detroit, Kid Rock's Made in Detroit, District Market and Team Store—as well as office space for Google, 313 Presents and the Detroit Red Wings. New businesses coming to The District Detroit include Tin Roof Detroit, The M Den, Frita Batidos, Rush Bowls, Sahara Restaurant and Grill, Union Joints, Detroit Medical Center and Warner Norcross & Judd. The District Detroit has brought more than 20,000 construction and construction-related jobs and 3,000 permanent jobs for Detroiters and Michiganders to this area of the city, resulting in an estimated $2.1 billion in total economic impact.