June 08, 2018
Mike Ilitch School of Business at Wayne State Celebrates Graduation of the Inaugural Police Leadership Academy Class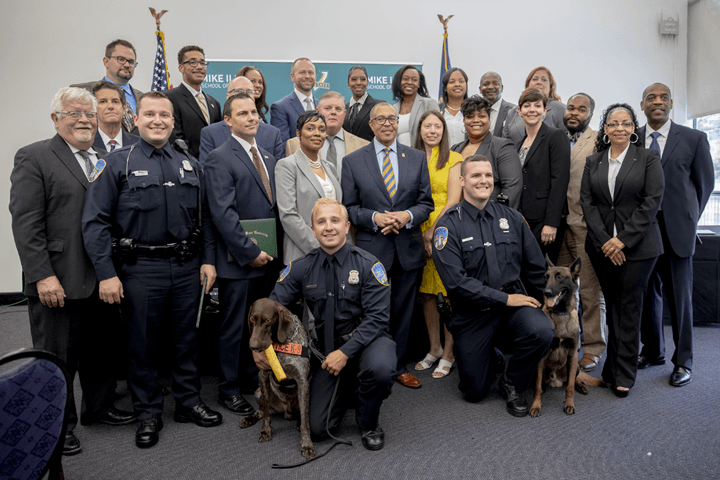 Nearly two dozen City of Detroit and Wayne State University police officers with new skills in effective leadership and management recently received graduate certificates from the Mike Ilitch School of Business at Wayne State University.
The 22 students, who convened at the McGregor Memorial Conference Center Friday, June 8, represented the inaugural class of the Detroit Police Department Leadership Academy.
Every student among the first cohort now boasts nearly half the credit hours needed to complete a MBA at the Mike Ilitch School of Business
Roughly half of the inaugural class has already enrolled in additional MBA classes this year.
Announced and launched in January by Detroit Police Chief James Craig and Wayne State University President M. Roy Wilson, the intensive, five-month program prepares officers for advanced responsibilities as they continue to make the city safer.
DPD Captain Constance Slappey, the commanding officer for the city's 11th precinct and the student keynote speaker, said she enrolled in the program because it was a "wonderful opportunity" she could not pass up as a forever learner.
During her address, Slappey noted the sacrifices the cohort made to manage the intensity of the accelerated program. "It was very awesome and very time-consuming. We did our regular jobs in addition to our classes. But with the support of our colleagues in our department, and with the support of each other, we made it through," she said.
In the last five months, participants took six courses covering a wide array of topics including communication skills, corporate finance, contemporary management, human resources, persuasion, leadership and personal development. Deloitte, a global audit and consulting firm, provided organizing and program development support.
The officers took tours and held classes at different sites through the area, including Lear Corp, Deloitte and Little Caesars Arena.
In addition to attracting and retaining new officers, the leadership academy aims to educate 100 officers in the next three years. The academy's second cohort is already set to begin coursework in September 2018.
The new Mike Ilitch School of Business building will open to students in the fall and was made possible by a $40 million donation from Mike and Marian Ilitch.
About The District Detroit
The District Detroit is a dynamic urban destination in the heart of Detroit. One that includes something for everyone—a dense neighborhood experience with a variety of developments alongside Detroit's premier sports and entertainment venues. Connecting downtown Detroit to growing nearby neighborhoods such as Midtown, Corktown and Brush Park, The District Detroit is having a dramatic economic impact on Detroit and is a driving catalyst of the city's remarkable resurgence. The District Detroit will deliver $1.4 billion in new investment to Detroit including the new Little Caesars Arena, Mike Ilitch School of Business at Wayne State University and Little Caesars world headquarters campus expansion. Additionally, new office, residential and retail spaces will continue to add momentum to Detroit's amazing comeback for years to come.