January 22, 2018
Secure, Well-lit Parking Options in The District Detroit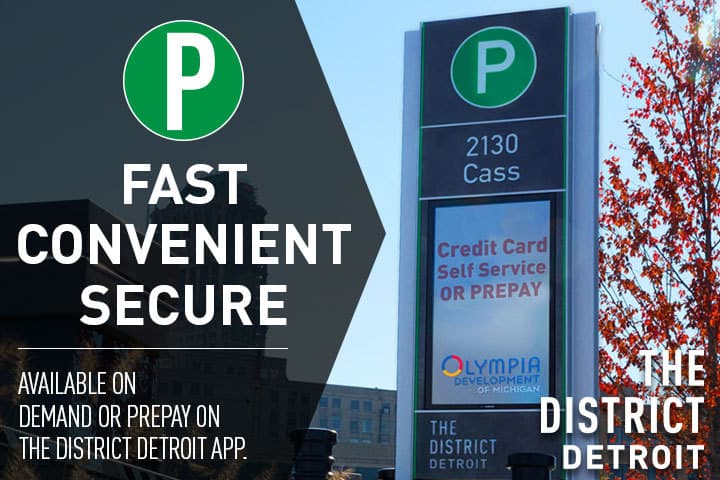 With the addition of three new parking structures last year, fans and visitors of Little Caesars Arena and The District Detroit now have access to more than 7,800 secure, well-lit and credit card-ready parking spots operated by Olympia Development of Michigan. This represents more than double the number of parking spaces that were available at Joe Louis Arena and supports current development in The District Detroit while setting the stage for future additional development.
New structured parking options in The District Detroit include about 2,600 spots in the newly-built parking structures: The D Garage at 90 E. Fisher Service Dr., The Henry Street Garage at 134 W. Fisher Service Dr. and The Little Caesars Arena Garage at 165 Sproat St. These structures join the Tigers Garage at John R and Montcalm and the Fox Garage on Montcalm west of Woodward.
In collaboration with ParkWhiz, The District Detroit provides e-parking options to visitors and ticket-holders who want to book parking space before reaching a destination, such as the arena, The Fillmore Detroit or the Fox Theatre.
Visitors can pre-pay for parking passes via Ticketmaster.com, ParkDistrictDetroit.com and the new District Detroit app available on the Apple App Store and Google Play Store. All locations now accept credit card payment upon entry.
All Olympia Development-run parking lots feature accessible parking and additional ADA spaces are available at Olympia's lot at 2721 Cass Ave.
For easy access to the Fox Theatre/Olympia Entertainment Box Office, validated complimentary parking is always available at 61 East Elizabeth or the Fox Garage, located on 28 W. Montcalm St. near Woodward Avenue.
Visitors can check out an interactive map of parking options in The District Detroit by clicking here.
Access more information by clicking here.
About The District Detroit
The District Detroit is one of the largest sports and entertainment developments in the country. Located in the heart of Detroit, this 50-block, mixed-use development led by the Ilitch organization unites eight world-class theaters, five neighborhoods and three professional sports venues in one vibrant, walkable destination for people who want to live, work and play in an exciting urban environment. Home to the Detroit Tigers, Detroit Red Wings, Detroit Pistons and Detroit Lions - The District Detroit represents the greatest density of professional sports teams in one downtown core in the country.
Current data from the University of Michigan demonstrates that The District Detroit will account for an economic impact of more than $2 billion by 2020 and create more than 20,000 construction and construction-related jobs and 3,000 permanent jobs.