April 10, 2018
The Fillmore to Host Film World Premiere About Detroit Red Wings' 'The Russian Five'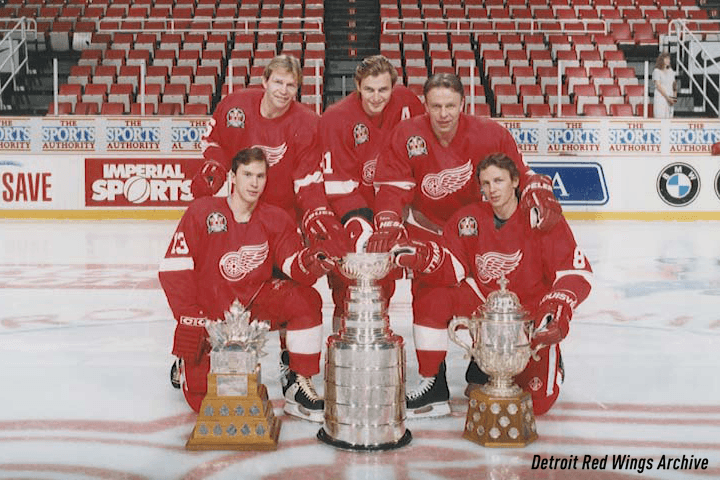 When Mike and Marian Ilitch purchased the Detroit Red Wings from Bruce Norris in 1982, they ushered in a new era in the team's storied history.
By recruiting five highly-skilled but little-known players from Russia, the owners showed they were willing to do whatever it takes to build a Stanley Cup®-winning team. This new phase in Red Wings history marks the beginning of the new documentary film, "The Russian Five," which will premiere during a sold-out screening at The Fillmore Detroit on Wednesday, April 11.
Created by Port Huron native and film director Joshua Riehl, the saga chronicles the five Russian hockey stars that spurred the team's 1996-97 Stanley Cup run: Vladimir Konstantinov, Sergei Fedorov, Igor Larionov, Vyacheslav Kozlov and Viacheslav Fetisov. Under the leadership of legendary NHL coach Scotty Bowman, the five men changed the way the Red Wings played by bringing a style popularized by world-renowned teams in the former Soviet Union.
The film features an original score by Wayne Kramer, leader of the legendary Detroit hard rock band, MC5, along with new interviews with the Russian Five and other NHL greats, such as Steve Yzerman and Wayne Gretzky.
Riehl, who completed the film after trips all over North America and Moscow, became fascinated with the Red Wings as a youth. He recalls watching games with his grandparents and witnessing the frustration surrounding the team's defeat in 1995, and later, the excitement of the team's first championship victory in 42 years.
"I want people to not just remember those experiences, but to relive them in an emotional way," said Riehl, an alumnus of the University of Texas at Austin's film program.
In addition to reaching die-hard fans, Riehl aims to reach filmgoers who have no interest in hockey, or even sports, especially at such a polarizing time in America. For Riehl, the documentary isn't a sports film; it's a film about the human experience and all that comes with it, like overcoming adversity and setting aside differences to reach a common goal.
"It wasn't until they stopped looking at each other as North Americans, Russians and Europeans and Swedish, they saw each other as brothers. They were all in it together for the same purpose. They put all of their differences aside and that's when the magic happens," said Riehl, whose previous experience includes working on the PBS FRONTLINE film, "Death by Fire," and other criminal justice-themed work.
After ESPN passed on backing the film, Riehl returned to his native Michigan to find alternative funding and discovered the city's revitalization was underway. "I saw the things that were starting to happen downtown and the rumbling of the new arena. It was an exciting time to come back and see it for myself," Riehl said.
Riehl, who got into filmmaking in high school by recording his friend's rock bands, said the world premiere at The Fillmore is a full-circle moment for him. When the historic theater was still known as the State Theatre, Riehl took on one of the most notable assignments of his early career by interviewing rock band Incubus at the historic entertainment venue.
In addition to sold-out screenings at The Fillmore and Emagine Royal Oak theaters, "The Russian Five" will show Friday, April 13 at 4 p.m. at the Detroit Film Theatre at the Detroit Institute of Arts. Purchase remaining tickets by clicking here.
About The District Detroit
The District Detroit is a dynamic urban destination in the heart of Detroit. One that includes something for everyone—a dense neighborhood experience with a variety of developments alongside Detroit's premiere sports and entertainment venues. Connecting downtown Detroit to growing nearby neighborhoods such as Midtown, Corktown and Brush Park, The District Detroit is having a dramatic economic impact on Detroit and is a driving catalyst of the city's remarkable resurgence. The District Detroit has delivered $1.2 billion in new investment to Detroit including the new Little Caesars Arena, Mike Ilitch School of Business at Wayne State University and Little Caesars world headquarters campus expansion. Additionally, new office, residential and retail spaces will continue to add momentum to Detroit's amazing comeback for years to come.