Imagine
The District Detroit will be 50 blocks of thriving businesses, parks, restaurants, bars and event destinations. It will be home to the young and the young at heart, families, new residents and long-time residents who want to be where the action is. The District will connect Downtown and Midtown into one contiguous, walkable area, where families, sports fans, entrepreneurs, job seekers, entertainment lovers and others who crave a vibrant urban setting can connect with each other and the city they love.
Imagine Detroit as it once was. Imagine Detroit as it can be again.
Expand Map
Close Map
Stay Up To Date
Sign up to receive the latest news and information.
Love sports? Love Detroit? You're going to love this.
A world-class sports and entertainment development—50 blocks, six theaters, five neighborhoods, four teams—one big win for Detroit.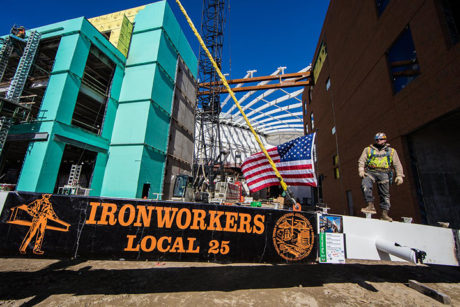 March 23, 2017
The final piece of structural steel was placed above the Via concourse and adjoining buildings outside Little Caesars Arena today. Crews took a moment to celebrate the final truss going into place and much like the topping out ceremony of Little Caesars Arena, held in August, the final Via truss had an evergreen tree on it to mark yet another point of impressive progress.
Read Full Story
March 21, 2017
Watch construction progress live as it happens at the new Mike Ilitch School of Business at Wayne State University. New live webcams are now streaming video of the construction site located at the corner of Woodward Avenue and Temple Street in The District Detroit
Read Full Story
March 21, 2017
It's one of the most exciting times of the year in The District Detroit—spring—as Detroit Tigers baseball begins at Comerica Park on Opening Day, April 7. The Tigers take on the Boston Red Sox and fans will come out in droves to celebrate the start of the baseball season.
Read Full Story