Imagine
The District Detroit will be 50 blocks of thriving businesses, parks, restaurants, bars and event destinations. It will be home to the young and the young at heart, families, new residents and long-time residents who want to be where the action is. The District will connect Downtown and Midtown into one contiguous, walkable area, where families, sports fans, entrepreneurs, job seekers, entertainment lovers and others who crave a vibrant urban setting can connect with each other and the city they love.
Imagine Detroit as it once was. Imagine Detroit as it can be again.
Expand Map
Close Map
Stay Up To Date
Sign up to receive the latest news and information.
Detroiters Finding New Careers in The District Detroit
Little Caesars Arena is the product of 600,000 hours of hard work logged by Detroit construction workers. Alongside thousands of other tradesmen and women and more than 800 apprentices—the team has worked to build the new home of the Detroit Red Wings and Detroit Pistons.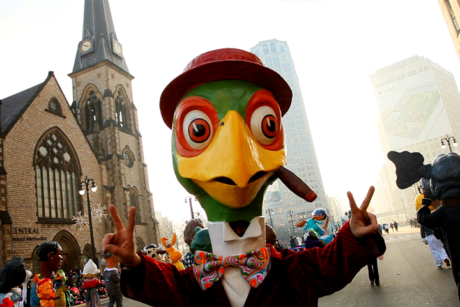 November 22, 2017
Thrilling new events will begin and decades-old traditions will return in The District Detroit on Thanksgiving Day, Thursday, November 23.
Read Full Story
November 21, 2017
Detroit-based businesses are leading the way in construction of the city's first newly-built corporate headquarters in more than a decade.
Read Full Story
November 14, 2017
The Mike Ilitch School of Business at Wayne State University is halfway complete, and work crews have begun installing the building's exterior glass façade, along with its exterior limestone, metal panels and custom curtain wall systems.
Read Full Story